< Back to offers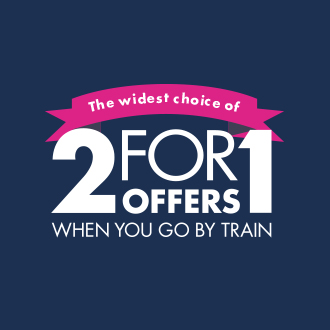 2FOR1 Offers on Days Out Guide
You'll find a huge selection of discounted days out here at daysoutguide.co.uk, with many exclusive 2FOR1 offers.
There's a 2FOR1 offer for everyone, every day, when you go by train!
Get 2FOR1 entry to over 150 top London attractions, restaurants, theatres, exhibitions and more, when you travel by train to the capital! Just browse our list of 2FOR1 London offers (the ones with pink 2FOR1 tickets on them), then download a voucher and present it with your rail ticket when you visit the attraction. You don't need printed 2FOR1 vouchers for the theatre but you must book in advance.
When you click 'Claim Offer' you will be taken to our partner's website. Once you have left our page please check our partner's privacy notice for information on how they use your personal data.