< Back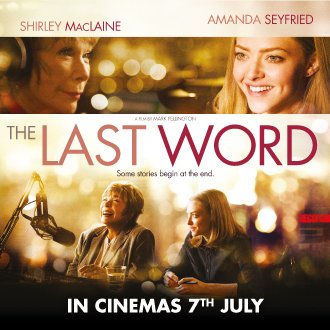 The Last Word
To celebrate the release of The Last Word, in cinemas July 7th, we've got some great prizes for you to win.
One lucky winner will receive a Luxury stay for two at a Bespoke Hotel. Runner up will win a VQ Rosie Lee Radio.
In The Last Word, Shirley MacLaine is Harriet Lauler, a once successful businesswoman in tight control of every aspect of her life. As she reflects upon her accomplishments, she's suddenly inspired to engage a young local writer, Anne Sherman (Amanda Seyfried), to pen her life's story. When the initial result doesn't meet Harriet's high expectations, she sets out to reshape the way she is remembered, with Anne dragged along as an unwilling accomplice. As the journey unfolds, the two women develop a unique bond which alters not only Harriet's legacy, but also Anne's future.

To find out more about Bespoke Hotels click here
Enter your details below for a chance to win!
---
This competition is now closed.